«

Back to News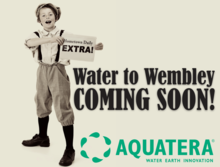 September 7, 2018

GRANDE PRAIRIE – Residents are invited to join Aquatera and the Town of Wembley to celebrate and learn more about the Water to Wembley project and how it will impact them.

The event will be held on Saturday, September 8 from 10 a.m. to 2 p.m. at 9928 100 Street in Wembley and include family activities, information and a community barbeque.

Over the summer, work on the Regional Transmission Line began with support from Aquatera that will provide the Town of Wembley with water from the Aquatera Water and Treatment Plant.

"We have been working on this for close to a decade with the Town," says Aquatera CEO Bernd Manz. "Now finally on the horizon, we are excited to be part of the solution to bring Aquatera water west to the Town of Wembley, ensuring community development and sustainability for the region.

In 2019, Wembley will become Aquatera's fourth municipal shareholder and will start receiving water and wastewater services from Aquatera. Town water and wastewater assets will be sold to Aquatera in exchange for shares in the company Currently, residents of Wembley receive their water from aquifers and wells, resulting in lower water quality and restrictions to preserve water levels and limit the Town's ability to grow.

Aquatera is excited for this new partnership and want to celebrate with the community by hosting this event.For more information about this event or water to Wembley projects visit: www.aquatera.ca /transparency-growth/water-to-wembley.
-30-
Aquatera Utilities Inc. is the Grande Prairie region's provider of water, wastewater and solid waste services. Its core purpose is helping grow healthy communities and aims to have the best people providing the best service for the best value.

Media contact:
Chelsea Lewis, Communications and Change Manager
Aquatera Utilities Inc.
C: 587.297.0692