«

Back to Blog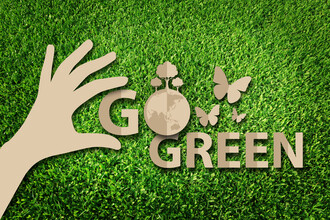 I love January! It marks the beginning of a new year, and an opportunity for a fresh start.
I always spend January 1 planning out my goals and what the year ahead will look like for me. It's empowering to lay out your resolutions and determine how you will achieve them. For me, it looks like this:
Resolution
Physical Health

Steps to Achieve
Eat Lean, Clean and Green
Get Active
Drink More Water

Resolution
Mental Health

Steps to Achieve
Meditate
Listen to Empowering Podcasts
Positive Affirmations
Resolution
Get Organized

Steps to Achieve
Watch Tidying Up with Marie Kondo on Netflix (is this still a thing?)
Create a Cleaning Calendar
Declutter and Donate

I know, I know… These resolutions aren't particularly cutting-edge, are they? This year, however, I want to add a resolution to the list: Go Green! And what steps will I take to achieve this? For starters, I'll put a recycling bin in every room in my home; then, I'll only purchase items that are made of 100% recycled materials; when I go shopping I'll bring my own reusable bags and containers; If I'm at dinner, I'll refuse plastic straws; I'll make my own cleaning products; I'll buy everything I need from thrift stores; and I'll sell my vehicle for an alternative, sustainable mode of transportation. [insert out of breath sigh]
Oh. My. God.
Feeling overwhelmed? It's no wonder resolutions don't work. Nothing works when you try to take on the world all at once. Trust me, these resolutions made my list for the last 10 years (at least) before I realized I wouldn't accomplish any of them if I didn't change my approach. So how did I plan to Go Green on top of everything else? I decided to do what every Type A person does – I mapped out all of my goals and the overarching activities involved in achieving them. Then, I broke it down even further to map out all of the micro-steps for each activity. Lastly, I scheduled them into my cal… Maybe we won't go there right now.
The point is, I thought that if I carefully planned everything out, I would be successful. Where I had previously failed, wasn't for a lack of planning (clearly). It was because I felt that I needed to dive into each goal 100% and undertake them all at the same time, when really, I should have taken baby steps.
I was overwhelmed, frustrated and I felt completely defeated. I was that person who thought "I've already failed at one thing so I might as well give up on everything else". Sadly, this is a trap that many of us fall into, and we do it every year.
This year, give yourself permission to start small. Take one goal, learn about it, and implement it into your lifestyle. This will create a habit, and habits are a regular behaviour that occurs as part of our subconscious – meaning it will just become a natural part of our routine.
If you're serious about Going Green in 2020, I think I have something that may help you. My Type A personality made you a Go Green in 2020 Calendar with one 'Green' item to achieve each month. By this time next year, you will realize just how much you accomplished and how easy it was to Go Green.
I hope you will share your progress with us, and if you have any tips or tricks to help us stick to our resolutions, let us know!
And on behalf of Aquatera, I wish you a safe, happy and fulfilled 2020!