«

Back to Blog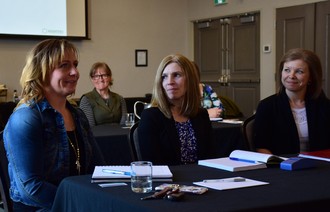 What does Aquatera Utilities Inc., Atco Electric and the City of Grande Prairie have in common? Apart from serving our beautiful community, we share the drive and ambition to deliver value to our customers.
On May 1, 2018, Aquatera delivered our first Lean Community of Practice Lunch and Learn to an impressive group of local organizations including the Chamber of Commerce, Kasa Property Management, Norbord, Vista HR, and the above-mentioned groups. Key Speakers included Meredith Pilkington, Chief Human Resources Officer of Aquatera; Water/Wastewater Operations Manager of Aquatera, Nick Kebalo; Safety and Lean Manager of Aquatera, Ryan Ropcean; and Lean Six Sigma Black Belt1, Rick Owen.
Our goal was to share our Lean journey, The Aquatera Way, and how implementing these Lean practices has drastically shifted our workplace culture and resulted in significant added value to our customers.
Aquatera was not always the Lean organization it is today. In fact, our first attempt to implement this philosophy in the workplace was not a success. But you can't have success without some failure now, can you? What we did have, however, was passion. By learning from our mistakes, we were able to see why we couldn't Make It Stick2.
As it turns out, our staff were not grasping the concept of Lean. To them, Lean meant finding ways to place blame, cut costs, even eliminate their jobs. It's no wonder they were so unenthusiastic. Luckily, we knew there was significant value to this philosophy, so we brought in the big guns.
Leading Edge Group is an international organization dedicated to helping organizations implement continuous improvement methods through corporate training and education. Working together, we determined that the purpose of our strategy was to drive change in workplace culture which would in turn allow us to continue delivering on what customers expect from us: quality products and services, dependable services at competitive rates and adherence to environmental standards and regulations.
Leading Edge Group worked with us to gain momentum and ensure understanding across the organization. Together with our governance team, comprised of our CEO; Chief Human Resources Officer; Aquatera Corporate Team; Lean Team and Aquatera Board Chair, we developed The Aquatera Way.
"We established a complete shift in culture over a short period of time with the adoption of Lean's philosophy, supported by the simple governance, strategy and a clear roadmap and vision that resulted in improved safety, capacity, capability and savings in time and money along with a mindset and culture change that's now driving our organization," said Meredith Pilkington, Chief Human Resources Officer.
By investing in Lean, and the encouraging our staff, we have seen incredible success which has added significant value to our customers. Since it's inception we have achieved a realized a cost savings of nearly $1,000,000.
Due to our continued development, Aquatera was also selected as the first recipient of the International Continuous Improvement Excellence Award for North America from Leading Edge Group.
This award was established to recognize and honour organizations that implement sustainable continuous improvement programs. This award really demonstrates our continued dedication and commitment to our community and we couldn't be prouder to share it with our community, in hopes that other organizations will jump on the Lean bandwagon.
This Lunch and Learn was a great success, and Aquatera looks forward to creating a Community of Practice which will allow local organizations to come together throughout the year and inspire the implementation of Lean in all workplaces.
1    Expert in Six Sigma Lean philosophies and practices.
2    Drawing on cognitive psychology, this book offers methods for becoming more productive, while cautioning habits and routines that are counterproductive.