«

Back to News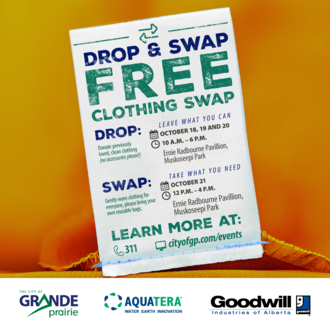 GRANDE PRAIRIE - The City of Grande Prairie, in collaboration with Aquatera Utilities Inc., is hosting a free community event called the Drop & Swap. This eco-conscious initiative encourages our community to engage by either contributing new or gently used clothing or finding new treasures for their wardrobe.
From October 18 to 20 residents can drop off their new and previously loved clean clothing at the Ernie Radbourne Pavilion in Muskoseepi Park from 10 a.m. to 6 p.m. each day.
On Saturday, October 21 the swap begins! Residents are invited back to Ernie Radbourne Pavilion to participate in the swap from 12-4 p.m. There is no obligation to contribute items to partake in the swap, but attendees are kindly asked to bring their reusable bags to minimize waste.
"Drop & Swap is not just an event; it's a celebration of our community's commitment to sustainability. Together with Aquatera Utilities Inc., we invite you to join us in taking a meaningful step towards reducing waste and embracing sustainable fashion choices," said Mayor Jackie Clayton. "Last year, we diverted a remarkable 3,000 pounds of clothing from the landfill, and this year, we aim to do even better."
Unclaimed items from the swap will be gathered by Goodwill Industries of Alberta and taken to our Grande Prairie facility. These items will be made available for purchase. Any textiles that cannot be sold will be repurposed into rags, used as stuffing for various products and repurposed for by-products employed by the agriculture industry.
Join us in making a positive impact on waste reduction and sustainable fashion choices during Waste Reduction Week. Let's swap, shop and support a greener future together.
For more information on the Drop & Swap event, visit cityofgp.com/dropandswap.