«

Back to News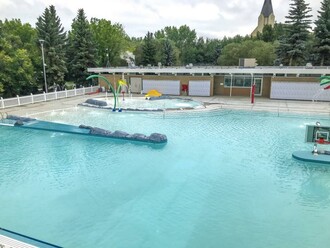 The City of Grande Prairie is pleased to announce Aquatera Utilities Inc. as the new naming rights partner for the Grande Prairie Outdoor Pool, to be renamed the Aquatera Outdoor Pool.
"Having Aquatera sign on as a naming rights partner for one of the City's legacy recreational facilities is a major moment for Grande Prairie," says Mayor Jackie Clayton. "These partnerships help enhance our offerings and build more affordable, accessible and inclusive communities for all of our residents, while demonstrating the positive impact of engaging relationships with our stakeholders."
"Aquatera is excited to be working with the City of Grande Prairie on this important partnership which allows us to contribute to the vibrance of our community," says Vaughn Bend, Chief Executive Officer of Aquatera Utilities Inc. "We look forward to making a positive impact that aligns with our core purpose of growing healthy communities."
The partnership is a 5-year naming rights agreement. Naming rights partnerships contribute to enhanced programs, facilities, projects and services that help enrich people's lives in the community. This agreement will create a positive impact and benefit not only the facility but also the community as a whole.
About the Facility
A hallmark in the community, located in Muskoseepi Park, the outdoor pool was first opened in 1962, marking 60 years at its current location.
From public swims to swimming lessons and private rental opportunities, the City looks forward to seeing it return as an essential summer hangout for residents and visitors of all ages.
Outdoor Pool features include:
Tots pool
Zero beach
Spanish steps and lily islands
Green space and leisure picnic area
Waterslide
About Aquatera Utilities Inc.
Aquatera Utilities Inc. is a municipally owned corporation headquartered in the Grande Prairie region and is a leading provider of water, wastewater, and solid waste services throughout Alberta. Aquatera plays an integral role in growing healthy communities while supporting economic development in service territories.
In business since 2003, Aquatera has been a model of regional cooperation between our municipal shareholders in northern Alberta, serving over 80,000 customers. They are trusted experts in delivering ideal solutions and services essential to growing healthy communities. Their commitment to the health and safety of employees, vendors, contractors, and the communities they serve are fundamental components to Aquatera's continued success.
The City and Aquatera invite the community to join them at the outdoor pool's 60th Anniversary event on Saturday, July 16. Full details available at cityofgp.com/events.
Media Contact:
Sarah Martin, Public Relations and Communications Specialist
Aquatera Utilities Inc.
P: 780.830.5012 | C: 867.445.6487