«

Back to News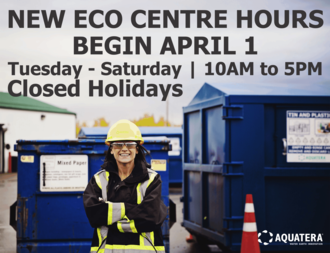 GRANDE PRAIRIE – To improve operational efficiency, Aquatera will soon be adjusting public hours at the Eco Centre. Currently, the Eco Centre is open to the public six days a week, Monday to Saturday, from 10 a.m. to 5 p.m.

Effective Thursday, April 1, 2021, the Eco Centre will be open to the public five days a week, Tuesdays to Saturdays, from 10 a.m. to 5 p.m. The Eco Centre will be closed Sundays, Mondays and holidays. These days and hours will be in effect year-round.

Customers looking to access the Eco Centre on Mondays, for recycling purposes, can access many of the same recycling services at the Aquatera Landfill. The use of the Landfill on Mondays and holidays, for recycling purposes, will be subject to fees.

"The Landfill will continue to accept cardboard, hard plastics #1-7, and metals," says Lora Brenan, Aquatera's Chief Operating Officer. "However, the Landfill will not be accepting household hazardous waste such as paint, oil."

This change will have no impact on curbside collection services. Customers can expect their garbage and recycling to be collected on their regularly scheduled collections days.

Aquatera expects this change to improve operational efficiency and worker capacity, that will lead to improved customer service and enhanced customer support.

For more information about garbage and recycling, curbside collection, and operating hours, customers can visit www.aquatera.ca.
-30-
Aquatera Utilities Inc. is the Grande Prairie region's provider of water, wastewater and solid waste services. Its core purpose is "Helping Grow Healthy Communities," and aims to have the best people providing the best service for the best value.
Media Contact: 
Sarah Martin, Public Relations and Communications Specialist
Aquatera Utilities Inc.
P: 780.830.5012