«

Back to News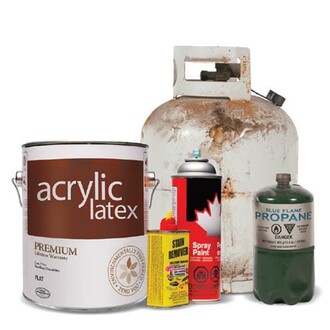 GRANDE PRAIRIE – To improve customer service and protect human and environmental health and safety, the Aquatera Eco Centre is aligning with Alberta Environment and Parks' guidelines around household hazardous waste.
On June 1, 2021, the Eco Centre will accept household hazardous waste in four categories: Aerosol, Corrosive, Flammable and Toxic.
"To ensure safe and proper disposal, all residential customers must ensure that hazardous waste is properly sealed in its original container with intact labels," says Lora Brenan, Aquatera's Chief Operating Officer. "If hazardous waste is not in its original container, customers must ensure it is safely and securely sealed, properly labelled, and not mixed with other chemicals."
To support customers, the Eco Centre is improving its site operations to ensure that customers can easily understand and identify proper disposal instructions for household hazardous waste. Disposal zones are clearly identified with signage to indicate how and where to properly dispose of waste.
Aquatera reminds customers that the Eco Centre is for residential customers only. Commercial and industrial customers are required to dispose of household hazardous waste at facilities that can accommodate larger volumes.
For more information about the Eco Centre and household hazardous waste, customers can visit www.aquatera.ca.
-30-
Aquatera Utilities Inc. is the Grande Prairie region's provider of water, wastewater and solid waste services. Its core purpose is "Helping Grow Healthy Communities," and aims to have the best people providing the best service for the best value.
Media Contact: 
Sarah Martin, Public Relations and Communications Specialist
Aquatera Utilities Inc.
P: 780.830.5012