«

Back to News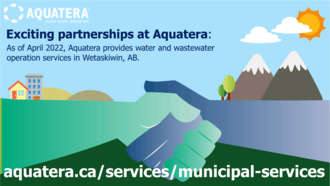 GRANDE PRAIRIE – Aquatera Utilities Inc. is pleased to announce that they will be taking over the operations and maintenance of the water and wastewater facilities for the City of Wetaskiwin.
"We are excited to be working with Wetaskiwin on this important partnership which will allow us to offer our expertise in utility services over a larger area within Alberta," stated Vaughn Bend, Chief Executive Officer for Aquatera. "Wetaskiwin is a wonderful community that offers our employees a great place to live and work and aligns with our core purpose of Growing Healthy Communities."   
The agreement allows the City to benefit from Aquatera's knowledge and expertise in water and wastewater services, while supporting Aquatera's desire to grow with progressive municipal customers. Aquatera currently manages the water assets for the City of Grande Prairie, County of Grande Prairie, Town of Sexsmith, Town of Wembley, Town of Manning, Town of Hinton, Municipality of Jasper and Silver Pointe Village. 
"With regulatory requirements around water and wastewater becoming more stringent, we wanted to partner with a company that would engage with our community and bring a strong level of water knowledge to the arrangement," stated Sue Howard, City Manager for the City of Wetaskiwin.
Aquatera has begun transitioning the management of the water system and expects the transition to be completed by August of 2022. This includes the onboarding of employees currently working for the City in water and wastewater. The City and Aquatera are working collaboratively to mitigate rate impacts through Peace Hills Utilities Inc., which will continue to own the assets managed by Aquatera. 
Current City of Wetaskiwin customers will not see a disruption in service. Customer inquiries can be directed to the Utilities Desk at 780.361.4453. For emergencies and disconnections, customers can phone 780.312.1056.
-30-
Aquatera Utilities is a municipally owned corporation headquartered in the Grande Prairie region and is a leading provider of water, wastewater, and solid waste services throughout Alberta. We play an integral role in growing healthy communities while supporting economic development in our service territories.
Media Contact:
Vaughn Bend, Chief Executive Officer
Aquatera Utilities Inc.
P: 780.538.0423| C: 403.860.1069

Lora Brenan, Chief Operating Officer
Aquatera Utilities Inc.
P: 780.357.5939| C: 403.606.7181