«

Back to News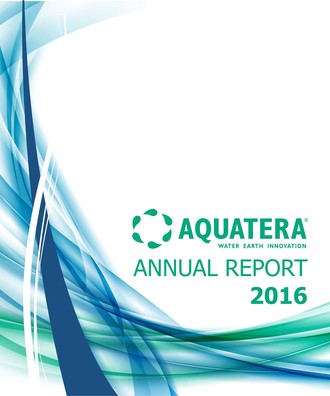 MEDIA RELEASE
Aquatera Releases Annual Report
June 22, 2017
GRANDE PRAIRIE – Aquatera's 2016 Annual Report in now online, providing customers an opportunity to review the company's focus and performance in the last year.
The report highlights Aquatera's commitment to finding internal cost savings, the capital upgrades made to meet the needs of a growing region, initiatives to reduce the company's environmental footprint and innovative ways to expand the enhance services.
Aquatera's 2016 Annual Report was presented to the City of Grande Prairie, County of Grande Prairie and Town of Sexsmith at a Shareholder Meeting on June 20.
"Our strategy in 2016 focused on our Core Purpose of Helping Grow Healthy Communities," says Bernd Manz, CEO. "I'm proud of the work we were able to accomplish in 2016 to provide essential services that contributes to both the quality of life of our customers and sustainable growth in our region."
The 2016 Annual Report presents a number of major milestones for the utility company, including:
$8.3 Million in new development for water and wastewater infrastructure
Over $750,000 given in Bottle Donation Program charitable donations since 2005
$18 million invested in capital projects
A five kilogram increase per household in residential recycling since 2015
Community sponsorship valued at $169,035 including gift-in-kind and cash to local organizations
Over 80 tonnes of Styrofoam diverted from the Landfill since 2011
Training opportunities for regional partners, high school students, Aboriginal youth and Aquatera operators
Internal Lean projects that resulted in $665,000 in annual savings
"At Aquatera, we pride ourselves on continually striving for excellence in all areas of our company. This year saw the emergence of the Aquatera Way, which empowers and challenges every employee to look for opportunities to improve the way work is done. The end result is the best people providing the best services for the best value," says Andy Beal, Board Chair.
Aquatera made significant progress towards developing a Lean culture. Major Lean initiatives focused on safety, asset management and supply chain management. Processes wereformalized encouraging staff to make changes that improve their day-to-day jobs and find savings that can be passed on to our customers."
To learn more about Aquatera's Lean journey: https://www.youtube.com/watch?v=6Yg_9JAxVEg
The Annual Report can be found at www.aquatera.ca/reports
-30-
Aquatera Utilities Inc. is the Grande Prairie region's provider of water, wastewater and solid waste services. Its core purposes is helping grow healthy communities and aims to have the best people providing the best service for the best value. For more information: www.aquatera.ca

Contact
Chelsea Lewis
Communications and Change Manager
Aquatera Utilities Inc.
P: 587.297.0692