«

Back to News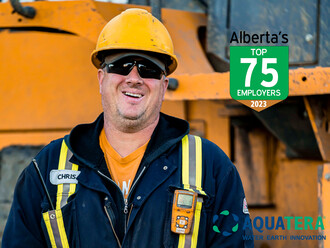 Aquatera Utilities Inc. is honoured to be named among Alberta's Top Employers for a second year. The annual competition recognizes employers who lead their industries in offering progressive workplaces and forward-thinking programs for their employees.
"Aquatera is proud to be recognized as one of Alberta's Top Employers for two consecutive years," says Vaughn Bend, Aquatera's Chief Executive Officer. "This award reflects our commitment, and that of our employees, who continue to do great work on behalf of the communities we serve. It's an honour to be among such respected company and we congratulate all of this year's winners."
First published in 2006, Alberta's Top Employers is a special designation that recognizes Alberta employers that lead their industries in offering exceptional places to work. Employers throughout Alberta were evaluated by the editors at Canada's Top 100 Employers using the same criteria as the national competition: Physical Workplace; Work Atmosphere and Social; Health, Financial and Family Benefits; Vacation and Time Off; Employee Communications; Performance Management; Training and Skills Development; and Community Involvement.
Employers are compared to other organizations in their field to determine which offer the most progressive and innovative programs. The annual competition is open to any employer with its head office in Alberta, and employers of any size may apply, whether private or public sector.
"Aquatera has taken great strides when it comes to looking after its employees and supporting the communities where we live and work," says Bend.
Aquatera has launched a number of initiatives across the organization to create an open and engaging environment and provide opportunities for connection. Aquatera was selected because they encourage employees to prioritize their health and wellness through resources such as their Health and Wellness Committee. Another deciding factor was their continued support for local organizations which involves a paid day off for employees to volunteer in the communities they serve.
"Giving back to our communities is really important to Aquatera and our employees, says Kalena LaValley, Account Services Assistant Manager. "Being able to support local organizations and initiatives through the employee volunteer program allows me to connect with my colleagues and give back, while supporting my well-being."
For more information, please visit www.aquatera.ca/who-we-are/alberta-top-employer. 
-30-
Aquatera Utilities is a municipally owned corporation headquartered in the Grande Prairie region and is a leading provider of water, wastewater, and solid waste services throughout Alberta. We play an integral role in growing healthy communities while supporting economic development in our service territories.
Media Contact:
Sarah Martin
Public Relations and Communications Specialist
Aquatera Utilities Inc.
P: 780.830.5012
C: 867.445.6487

Vaughn Bend
Chief Executive Officer
Aquatera Utilities Inc.
P: 780.538.0423