«

Back to News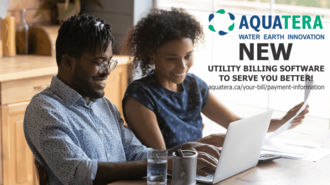 GRANDE PRAIRIE – Aquatera is excited to announce the launch of their cutting-edge billing software, SpryPoint. This innovative solution is designed to streamline billing processes and provide customers with an unparalleled billing experience.
As Aquatera continues to evolve and expand its service region, the need for agile and efficient billing systems has become paramount. Aquatera's new utility billing software delivers an array of features and benefits including the ability to view water usage and consumption; set up preferred communication and specialized alerts; submit requests, and much more.
Vaughn Bend, Aquatera's Chief Executive Officer says their goal is to empower customers and help them succeed in every way they can.
"Aquatera has always been committed to enhancing our customers' experience by providing tools and solutions that simplify their interactions with us. SpryPoint is a testament to this commitment, and we believe it will significantly enhance our customers' billing experience."
Customers will be required to re-enroll in Aquatera's new customer portal which launches on November 6, 2023. Once customers receive their first bill after November 6, they can go to www.aquatera.ca and re-enroll in the new customer portal, register their account and create their profile.
To support the transition, Aquatera's Account Services department will be closed to the public on Friday, November 3 and Monday, November 6.
To learn more about SpryPoint and how it can revolutionize your billing experience, please visit https://www.aquatera.ca/your-bill/new-utility-billing-software.
-30-
Aquatera Utilities is a municipally owned corporation headquartered in the Grande Prairie region and is a leading provider of water, wastewater, and solid waste services throughout Alberta. We play an integral role in growing healthy communities while supporting economic development in our service territories.
Media Contact:
Sarah Martin, Public Relations and Communications Specialist
Aquatera Utilities Inc.
P: 780.830.5012 | C: 867.445.6487

Vaughn Bend, Chief Executive Officer
Aquatera Utilities Inc.
P: 780.538.0423 | C: 403.860.1069