«

Back to News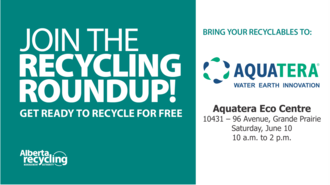 GRANDE PRAIRIE – Aquatera Utilities Inc., in partnership with Alberta Recycling, invites you to join them on Saturday, June 10 from 10 a.m. to 2 p.m. at the Eco Centre (10431 96 Avenue) for the Recycling Roundup!
The Recycling Roundup is not only an opportunity for residents to dispose of hazardous waste, but also an opportunity to learn about how the Eco Centre is a safe alternative to disposing hazardous items at the landfill. A shredding truck will also be on site, courtesy of Prairie Disposal, so customers can safely dispose of sensitive documents.
"These products, as well as many others, can be hazardous and require special care and handling to ensure they are safely and properly disposed," says Ryan Ropcean, Solid Waste Operations Assistant Manager. "Improper disposal can contaminate our water, land and air, and be hazardous to human health and wildlife."
Residents are encouraged to bring their hazardous waste, including electronics, batteries, ammunition, paint, and small appliances to the Eco Centre to be safely disposed at no charge!
-30-
Aquatera Utilities is a municipally owned corporation headquartered in the Grande Prairie region and is a leading provider of water, wastewater, and solid waste services throughout Alberta. We play an integral role in growing healthy communities while supporting economic development in our service territories.
Media Contact:
Sarah Martin, Public Relations and Communications Specialist
Aquatera Utilities Inc.
P: 780.830.5012 | C: 867.445.6487

Vaughn Bend, Chief Executive Officer
Aquatera Utilities Inc.
P: 780.538.0423 | C: 403.860.1069