«

Back to News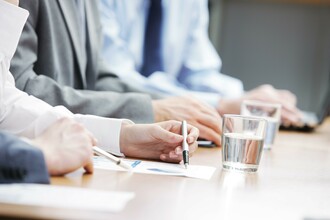 GRANDE PRAIRIE – Aquatera Utilities Inc. held its annual meeting on June 16 and is pleased to announce that the original Shareholders have appointed Mr. Jim Smith as Board Chair. Smith has resided on the Board of Directors since June 2011 and became Interim Board Chair in August 2018. Shareholders also reappointed Mary Bulmer to an additional three-year term, and Abe Neufeld to an additional one-year term.
Commenting on his appointment, Smith said "I am extremely humbled to receive the support of Aquatera's Board of Directors and Shareholders. I look forward to these continued relationships and providing excellent service to our customers and communities."
"During Jim's tenure as acting Chair, he demonstrated proactive leadership and promoted a positive business relationship with the County as one of its shareholders," said Leanne Beaupre, County of Grande Prairie Reeve. "We thank Jim for his past work as board member and acting Chair and congratulate him on this well-deserved appointment." 
Following the annual meeting, Aquatera released its Audited Financial Statements, presenting a detailed analysis of the financial state of the company over the past year.
Cash flow from operations in 2019 was $22.7 million, with $4.5 million paid to shareholders in the form of mandatory and discretionary dividends. As the only utility owned and operated in the Grande Prairie region, Aquatera's financial benefits return directly to four municipal shareholders – the City of Grande Prairie, County of Grande Prairie, Town of Sexsmith and Town of Wembley. Since 2003, $207.9 million in benefits have been returned to municipal shareholders through a mix of dividends, franchise fees and fees for service.
As the Grande Prairie region continues to grow, Aquatera plans to invest $100 million in growth-related capital projects over the next four years. Through shareholder collaboration, and targeted capital expenditures, Aquatera will continue to improve and develop infrastructure to support growth and facilitate increased capacity.
The annual meeting also provided Aquatera the opportunity to present its Year in Review, an overview of the company's focus and performance throughout 2019.
Environmental stewardship, community investment and customer value, along with highlights of the company's transition in leadership, were presented in the Review. This past year, Aquatera celebrated significant milestones, including the provision of water to the Town of Wembley, and the expansion of the Landfill Gas-to-Energy Project.
Aquatera remained committed to supporting and investing in the communities it serves through a variety of initiatives. In 2019, $140,065 was invested directly back into the community through sponsorships and donation, and an additional $46,711 was invested in non-profit organizations in the Grande Prairie region through the Bottle Donation Program.
Aquatera continued to focus on increasing customer value by providing utility rates below the median of comparable Alberta municipalities. Aquatera utility rates in 2019 were below the median at $109.20, providing fair and affordable rates to customer while ensuring operational requirements are protected.
The transition in leadership Aquatera experienced in 2019 continues to reflect positively throughout the organization. Collaboration and engagement between the Board of Directors and Shareholders  has resulted in the commencement of a strategy to sustain excellence, operations, and business growth to further increase value to Shareholders.
"We are proud of the value Aquatera has provided to our residents in the City and the region as a whole," said Bill Given, Mayor of the City of Grande Prairie. "I appreciate the commitment to care for our environment and value for dollar, that the whole organization, from board to frontline staff show day in and day out."
"Aquatera continues to be an organization that we, as a Town, are pleased to be a shareholder in," said Kate Potter, Mayor of the Town of Sexsmith. "The commitment of board members, senior management, and staff to providing cost-effective, quality service and peace of mind to our residents is critical to growing healthy & sustainable communities."
Chris Turnmire, Mayor of the Town of Wembley added, "As a new Shareholder with Aquatera, the Town of Wembley values the support and services Aquatera brings to our community. Wembley looks forward to a long and prosperous relationship with Aquatera."
Aquatera looks forward to the continued delivery of trusted quality, valued service, and peace of mind to their customers, with the Board of Directors and Shareholders supporting the continued vision and leadership of the organization.
Aquatera's 2019 Year in Review is available here.
-30-
Aquatera Utilities Inc. is the Grande Prairie region's provider of water, wastewater and solid waste services. Its core purpose is helping grow healthy communities and aims to have the best people providing the best service for the best value.
Media Contact:
Sarah Martin
Public Relations and Communications Specialist
Aquatera Utilities Inc.
P: 780.830.5012 | C: 867.445.6487
Vaughn Bend
Chief Executive Officer
Aquatera Utilities Inc.
P: 780.538.0423