«

Back to News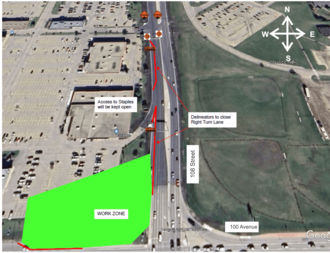 GRANDE PRAIRIE – As part of the 108 Street Trunk Sewer Project, Aquatera Utilities Inc. will be conducting construction activities on 108 Street and 100 Avenue in Grande Prairie, beginning May 27, 2022.
As a result, the westbound turning lane located at 108 Street (HWY 40) and 100 Avenue (adjacent to Staples Business Depot) will be closed. The turning lane is expected to reopen near the end of June.
Those travelling along 108 Street and 100 Avenue are asked to obey all signage and be mindful of workers in the area.
-30-
Aquatera Utilities Inc. is the Grande Prairie region's provider of water, wastewater and solid waste services. Its core purpose is helping grow healthy communities and aims to have the best people providing the best service for the best value.
Media Contact:
Sarah Martin, Public Relations and Communications Specialist
Aquatera Utilities Inc.
P: 780.830.5012
C: 867.445.6487
Lora Brenan
Chief Operations Officer
Aquatera Utilities Inc.
P: 780.357.5939