«

Back to News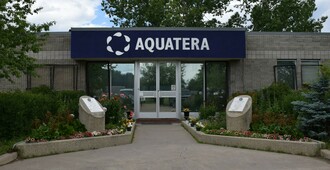 Grande Prairie, AB – Due to necessary water line maintenance at Aquatera's Water Treatment Plant, customers may notice an earthy smell and taste in local drinking water.  
Aquatera assures customers that their water is completely safe to drink. The earthy taste, which may also be accompanied by a more chlorinated or chloramine smell, can occur during water line maintenance. 
To help with disinfection of the water, more chlorine is used to ensure the water is safe for consumption. Both the chlorine and organic levels remain well within Canadian Drinking Water Guidelines and provincially-regulated levels. More information can be found at www.aquatera.ca/services/water-and-wastewater-treatment .
Tips to reduce the earthy or chloramine smells in tap water:
Run your tap a little longer before getting a glass or pitcher of water
Pour water from your tap into a water pitcher and leave it sit on the counter or in the fridge
If you have more sensitive taste buds or sense of smell, placing a slice of lemon or ginger in your water pitcher is a simple solution to eliminate any smells
Aquatera is working diligently to rectify the situation and customers can expect to see a reduction in the smell soon.
-30-
Aquatera Utilities Inc. is the Grande Prairie region's provider of water, wastewater and solid waste services. Its core purpose is helping grow healthy communities and aims to have the best people providing the best service for the best value.
Media contact:
Lora Brenan
Chief Operations Officer
Aquatera Utilities Inc.
780.357.5939