«

Back to News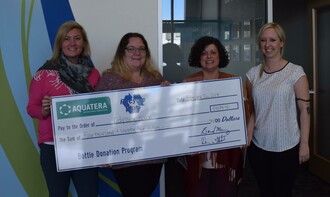 March 22, 2019 
GRANDE PRAIRIE – Aquatera is celebrates another year of community support with monthly donations to non-profits exceeding $800,000 to date.
In partnership with Recycle Plus, one organization per month is selected to receive the monthly funds collected from bottles donated at the Eco Centre, Landfill or either Bottle Depot locations toward the Bottle Donation Program. 
Aquatera would like to congratulate the following organizations who will receive funding this year through the Bottle Donation Program:
GP Association for Army Cadets – May 2019 recipient
Peace Area Riding for the Disabled Society – June 2019 recipient
Kidsport Grande Prairie – July 2019 recipient
3D Children's Society – August 2019 recipient
Fundraising Guild of Parkside Montessori – September 2019 recipient
Big Toy Box – October 2019 recipient
Grande Prairie Rugby – November 2019 recipient
Rotary After Five Imagination Library – December 2019 recipient
The Rainbow Society – January 2020 recipient
Sexsmith Playground Society – February 2020 recipient
Grande Prairie Friendship Centre Aboriginal Head Start – March 2020 recipient
Ronald McDonald House Charities Alberta – April 2020 recipient
The Bottle Donation Program supports organizations within Aquatera's service area, all supporting or providing programming to local, non-profit, youth-based organizations.
"At Aquatera we are helping grow healthy communities in a variety of ways. The Bottle Donation Program is one way we support the community, local youth and the environment." says Sarah Martin, Public Relations and Communications Specialist.
-30-
Aquatera Utilities Inc. is the Grande Prairie region's provider of water, wastewater and solid waste services. Its core purpose is helping grow healthy communities and aims to have the best people providing the best service for the best value.
Media contact:
Sarah Martin
Public Relations and Communications Specialist
Aquatera Utilities Inc.
P: 780.830.5012
C: 867.445.6487