«

Back to News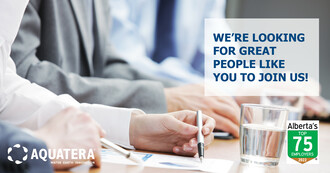 GRANDE PRAIRIE – Aquatera Utilities Inc. is currently seeking candidates for its Board of Directors.
In business since 2003, Aquatera is Alberta's first municipally owned regional utility for water, wastewater and solid waste services. Aquatera is a model of regional cooperation between our municipal Shareholders: City of Grande Prairie, County of Grande Prairie, Town of Sexsmith and Town of Wembley. Additionally, Aquatera provides contracted services to the Town of Hinton, Town of Manning, Municipality of Jasper, Hamlet of Hythe, and Silver Pointe Village.
The Board is responsible for the overall stewardship of Aquatera; establishing governance policies, standards and risk tolerances; and reviewing strategic plans and priorities, acting in the best interest of Aquatera and its stakeholders.
Candidates must have a strong commitment to Aquatera's strategic goals and priorities including Operational Excellence; Customer and Shareholder Engagement; Culture, Leadership, and Talent; and Financial Success.
Priority will be given to individuals with executive level experience overseeing large scale capital projects; proven leadership experience in information technology, cybersecurity, digital transformation, and e-commerce; experience as corporate counsel; and CEO experience in a similar sized or larger corporation.
The Board encourages interested and qualified individuals within the Aquatera service region to apply, but welcome applicants from across Alberta and western Canada.
For more information, and to apply, individuals can visit https://www.aquatera.ca/who-we-are/board-of-directors. Applications will be accepted until Friday, March 25.
-30-
Aquatera Utilities Inc. is the Grande Prairie region's provider of water, wastewater and solid waste services. Its core purpose is helping grow healthy communities and aims to have the best people providing the best service for the best value.
Media Contact:
Vaughn Bend, Chief Executive Officer
Aquatera Utilities Inc.
P: 780.538.0423