«

Back to Blog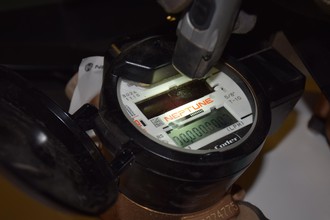 What's this program about? 
Nothing is forever anymore, including technology. While improvements are being made each year to make products more reliable and last longer – some changeover is still required.
That's why Aquatera has initiated the water meter replacement program and we'd like to have some real talk about our process and journey with this program. We've noticed some comments and concerns from our customers about our meter replacement program and would like to provide some additional information around this.
We're proud to bring you the latest technology available that will allow for improved service for years to come. We've contracted Neptune Technology Group to replace approximately 2,300 water meters in the City of Grande Prairie, County of Grande Prairie and Town of Sexsmith between May and September, 2017. This simple exchange typically takes between 30 – 90 minutes for each meter to complete and was at no cost to our customers.
So … why are we exchanging some meters?
Depending on the size of the meter and/or consumption on the meter, some industrial water meters need to be replaced annually, whereas most residential water meters only need to be replaced about every 15 to 20 years.
With new technology we are able to ensure better leak detection and pinpoint when and how much water was lost by logging data over a 90 day period. Detecting leaks early can potentially save customers hundreds of dollars.
Some of the meters out in community had technical issues or were at the age to replace – thus began the Aquatera water meter replacement program. As of September 20, 2017 – 95% of meters requiring replacement have been completed.
How did we communicate this program to all affected customers?
With over 2,000 customers needing new meters installed in a relatively short amount of time, we began sending out initial letters to our customers in May, 2017 letting them know that they would be receiving more information about how to book an appointment with Neptune Technology Group. Over the past five months, our Account Services team has sent out three letters and made several phone calls to all affected customers.
It's important to note that if we don't have updated contact information on file for you – it's a challenge to connect with you about upcoming changes. We understand that some people change their emails and phone numbers every so often so we remind everyone to check with our Account Services team to make sure we have the most up-to-date contact information for you. You can email them at myaccount@aquatera.ca
You've got a new meter and your bill increased – why is that?
We certainly understand that a change in regular billing would create some concern. Anyone who's noticed a large, notable difference is welcome to contact us to have your account and usage reviewed. Additionally – some previous meters were wearing out and under registering so it could be the case that your previous bills were not an accurate snap shot of your actual consumption. We bill on actual usage not estimated values – so connect with a member of our Account Services team if you would like a review of your situation specifically.
Why are you getting a smart meter?
The quick answer is – you're not. The term "smart meter" comes from the electricity meter industry as they can tell what time of day the power is being used, so they can do time of use billing. Our meters are not the same.
How do these meters work? Why do you need one?
Aquatera is proud to work with the Neptune Technology Group to install their T-10 and Aquity meters. Both meters are currently being used in our service area. All our water meters use positive displacement technology, which cannot over-register. 
The measuring chamber fills up and then empties out, and since it is a known volume, we can calculate the consumption based on how many times it fills up and empties.  Since it doesn't use velocity of water to measure consumption, there is nothing to calibrate inside the meter. Only a select number of households in our service area require a new meter – if you're affected, someone will be in contact with you.
Want more information on those meters and the technology inside?
Click on the meter you'd like information about, below:
Quality Assuarance  
One of our core values is quality. We want to ensure that we provide quality customer service by delivering high quality products and services. This program is one example of how we're doing that. It's important that meters read correctly so accurate billing occurs and customers pay for what they actually consume.
We value the thoughts, comments and suggestions of our customers and are always welcome to feedback. Additionally, if you ever have questions about our meter exchange program – feel free to visit: www.aquatera.ca/meterexchange or email our Account Services team at myaccount@aquatera.ca
We've created a short video with one of our highly trained, experienced operators to explain the features of the new meters. We encourage you to take a look below and learn about the new meters we're releasing: