«

Back to Blog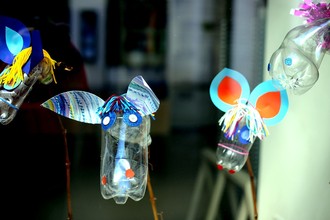 The 2018/2019 school year is now in full swing! If you're a teacher, you know the lasting impact you can have on a child. One way you can influence them to be environmentally conscious is by bringing recycling into the classroom. Here a few ways you can get your students involved in, and excited for, recycling!
Hold a Recycling Contest
Divide your students up into two or four groups and challenge each team to recycle as many items as they can. You can do this over the course of a week or a month. At the end of the challenge, determine the winning team based on who has recycled the most and offer up a prize as an incentive. Want to have an even bigger impact? Include the whole school and have each classroom challenge each other to win the contest!
Decorate Recycling Bins
Students love to get creative in the classroom. Why not get creative and learn valuable lessons at the same time? Dig the paper out of your classroom recycling bin, grab those glitter pens and get to work. Have each student draw or write down an item that can be placed in the recycling bin, then decorate their sheet to their heart's content. They will feel encouraged to participate and recycle, especially knowing that they were a big part of creating the recycling bins.
Beautify Your School
As the snow starts to melt and spring approaches, hold a garbage pick up day at your school. Gather your students, garbage bags, recycling bags and gloves and spend some time outdoors in the beautiful spring weather, picking up trash. With a whole class, or the whole school, it won't take long to beautify! Once you collect everything, separate it into two different piles – garbage and recycling, trying to recycle as much as you can. Students will take great pride in their school and enjoy their recess breaks even more, playing on school grounds free of litter.
Step Up Your Art Class
For your next art class, bring in recycled items and encourage your students to bring in their own from home. Have your students create an art piece to show to their class. This can be something that they can use on a regular basis such as a pencil or crayon holder made from a glass jar or yogurt container, or something they can proudly display such as a picture or sculpture. Want to step it up even more? Use glass jars to hold paint brushes and water, and the lids from those jars to hold paint while you're working on you art project!
These are just a few ideas to get you started. If you implement any of these, or other recycling activities into the classroom, we would love to hear from you! Email us at communications@aquatera.ca.