«

Back to Blog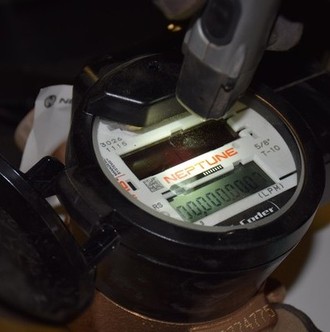 Quality – this is one of Aquatera's Core Values. Our goal is to ensure that we provide all our customers with quality products and services. One way we are doing this is through the Water Meter Exchange Program.
Did you know that the average lifespan of a water meter is 15 to 20 years? This means that 1700 customers throughout the City of Grande Prairie, County and Grande Prairie, Town of Sexsmith and Hamlet of Clairmont will see their water meters being replaced this summer.
Aquatera has contracted Neptune Technology Group, a company that is experienced and passionate about the business of water and providing solutions. Neptune will be installing Aquity and T-10 Meters. The benefits of these meters include high-resolution low-flow leak detection, positive displacement ensuring registration accuracy and an impact-resistant register, just to name a few.
Not only does this new technology allow us to ensure better leak detection, but it allows us to pinpoint when and how much water is lost by logging data over a 90-day period. Detecting leaks early can potentially save customers thousands of dollars.
Speaking of dollars, you may notice some changes in your regular billing and we completely understand that this may cause concern. The meters are being replaced because they are aged and wearing out, therefore it is very possible that they were under-registering. It could be the case that your previous bills were not an accurate representation of your actual consumption. We bill based on actual usage, not estimated values, so if you have a concern and would like us to review your specific case, please connect with our Account Services team.
On May 30, Neptune will begin exchanging meters throughout our service area. This exchange will take approximately 30 to 90 minutes, during which time the water will be shut off for a brief period. The upgrade of water meters in the specified neighbourhoods is mandatory in accordance with the City of Grande Prairie Bylaw No. C-1365, County of Grande Prairie Bylaw No. 3070 and Town of Sexsmith Bylaw No. 938. Please note that there is no charge for the meter or the installation.
Prior to this exchange, we will communicate with affected residents and businesses. Be sure to keep an eye out for letters, brochures and door-hangers with all the details you need to know about this exchange.
It is also important to note that if we don't have your up-to-date contact information, it can be a challenge to connect with you about upcoming changes. If you have changed your email address or phone number, we encourage you to check with our Account Services team to ensure we have your most up-to-date contact information.
We value and encourage your honest comments, thoughts, feedback and suggestions. Additionally, if you have questions about the Water Meter Exchange Program please visit https://www.aquatera.ca/services/metering-services or email our Account Services team.
In the meantime, check out this short video with one of our highly-trained, experienced operators explaining the features of the new meters.