«

Back to Blog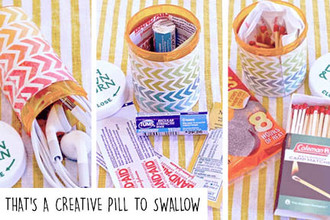 This month we are talking all about pills and medications and how harmful they can be on our environment and health when they are flushed down the toilet. Now you know how to safely dispose of pills, but what should you do with all those empty pill containers? You could rinse them out and recycle them at the Eco-Centre. Or you could find a way to reuse them.
If you're looking for some inspiring ways to reuse your empty pill containers, there is certainly no shortage of ideas! Check out these great ones below:
Office Supplies
Most pill containers are the perfect size for small office supplies taking up space across your desk and in your desk drawer. Why not gather all your binder clips, paper clips, safety pins and staples and make a home for each of them in their own trendily decorated pill containers!
Travel Kit
If you're going on a trip and don't want to waste precious space in your suitcase with large daily necessities, pill containers may be the best friend you've been looking for! Personally, I use these containers for just about everything – bobby pins and hair ties; shampoo and conditioner; cotton balls and cotton swabs; body wash and lotion; and small jewelry. Just about everything you need to take with you can easily fit into these containers. And the bonus – it saves room for all your vacation purchases :)
Mini First Aid Kit
You never want to find yourself in an emergency but, if you do, a mini first aid kit could come in very handy! Gather up some band aids, alcohol wipes, antibiotic ointment, gauze, butterfly closures, matches, ibuprofen, and rubber bands. Ta-da! You have yourself a mini kit that could save your life or, at the very least, from pain and infection. It seems like a lot to fit into a pill container but it's amazing how much these things can hold!
Emergency Snacks
Are you one of those people who always needs to have a snack on hand so you don't turn into Oscar the Grouch? This could be a mini first aid kit in itself! These perfectly sized containers can store enough of your favourite candy to satisfy your sweet tooth and are great for portion control because, if you're anything like me, will-power quickly goes out the window when there is candy around!
Crafts
Pill containers are not only great for storage, but also for crafting with the kids and teaching them all about reusing items and the positive impact it can have on our environment. Get out the construction paper, glitter, glue and markers and show your creativity. With Christmas just around the corner, you can take this opportunity to make Christmas decorations that you can display around your home or hang on your Christmas tree.
We would love to see how you re-purpose pill containers! Send your creations to communications@aquatera.ca and we will showcase them on our Facebook page!