«

Back to Blog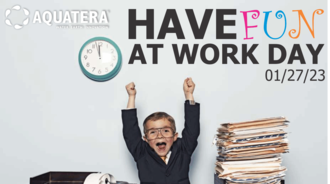 At Aquatera, we work hard and play hard.
One of our favourite ways to have fun at work often comes at the expense of our fearless leader and CEO. While he takes his work very seriously, he also knows the importance of balance in the workplace and goes above and beyond to make sure we have fun at work. Whether it's shaving his beard for all the world to see, letting us all have our turn at plunging him into the frigid waters of a dunk tank, or teaching us an 80's inspired aerobics class (click at your own risk), he loves to take a break from the monotony of the day and put a smile on our faces. For us, everyday is National Fun at Work Day.
This is part of the reason we were named one of Alberta's Top 75 Employers in 2022 (fingers crossed for 2023!).
Sadly, that is not the case for everyone. And if it's not, then boy are you in luck this week!
Just when you thought Friday couldn't get any better around the office, it shows up and brings National Fun at Work Day with it! That's right folks, January 27 is National Fun at Work Day!
National Fun at Work Day was created to foster happiness and humor in the workplace and bring employees together. Whether you work in a small office, at a large organization, or even from home, injecting some fun into the workplace is a great way to bond with your team, boost morale, get inspired, and increase productivity. Everybody needs a little fun in their life, and National Fun at Work Day encourages a break from the monotony with a dose of fun, all within your work environment.
Regardless of your workplace's culture, no one is immune from falling into a work routine, feeling stressed, or prioritizing work over relationships and other passions. National Fun at Work Day is an opportunity to infuse fun into your workplace by reconnecting with coworkers, fostering new relationships with team members, and relaxing and recharging.
And if you aren't sure that fun belongs in the workplace, think again! Studies show that when employees are happy, organizations thrive. Happy employees are more productive, efficient, successful and loyal than unhappy employees. They are also less stressed and take fewer sick days than unhappy employees. National Fun at Work Day encourages inspiration, connection, engagement and balance, and it is something worth celebrating.
So how can you celebrate? Here are a few great ideas to consider:
Make it a Spirit Day
Instituting a fun dress code is a great way to involve the whole office in National Fun at Work Day. Have everyone wear gear from their favorite sports team, dress up from their favourite era, or have a pyjama day!
Host a Lunch Potluck!
Food is my personal love language so I'm always down for an opportunity to eat all the food! Organize a potluck and ask everyone to bring a dish and enjoy spending some time reconnecting with your colleagues over a yummy meal.
Scavenger Hunt
This is a great way to get employees moving. To run a scavenger hunt, split participants into teams and hand out lists of clues (or you can do it individually). The first team or person to track down all the items in the list or complete all the tasks wins.
Virtual Team Trivia
I don't know anyone who doesn't love a good trivia game! If you're working remotely, hop on Zoom (or the like) with your team and hold a fun trivia challenge. Whoever gets the most correct answers wins!
Now, doesn't this sound like fun? So, lets rally the troops and celebrate! I hope all of you take time to celebrate National Fun at Work Day.
I know I can't wait to see the look on our fearless leaders face when he sees what we have in store for him today! (insert evil laugh here)