«

Back to Blog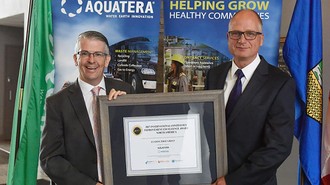 Award Winners 
Aquatera is the proud North American recipient of the first International Continuous Improvement Excellence Award from Leading Edge Group, what an accomplishment!
What is Lean? 
Lean is a systematic method used at Aquatera to reduce waste without sacrificing productivity. We started integrating these principles into our organization just a few years ago and have seen tremendous success and a commitment from all of our staff to discover how they can do their jobs more effectively. Our goal is be continuously improving, and in the end, creating a better service for our customers.
What we did
This award is a direct result of the hard work that each Aquatera employee has invested. Everyone is encouraged to "Just Do It" – and make the changes in their day-to-day jobs directly. As of result of this work and work from prior years – Aquatera has been able to achieve a realized savings of $980,000 through our Lean initiatives.
Bernd Manz, our CEO at Aquatera says it best …
"Quality and Respect are foundational pillars of Lean. They are also two Core Values at Aquatera. Our Lean initiatives have helped us practice respect by being accountable for all that we do and allowing each team member to affect their own jobs by eliminating steps that don't add value to our customers. I'm extremely proud of each Aquatera employee for their work towards winning this International Continuous Improvement Excellence Award for North America. This award showcases our commitment to our customers and is an important milestone in our journey of continuous improvement!"
Aquatera decided to incorporated Lean methodology to help reduce waste and add value to our customers. We're constantly focused on providing the best service and value at all times – and Lean is just one of the ways that we're doing those exact things.
This award shines some international light on the work that is being done each day here at Aquatera. It's through work like this that we help define our workplace culture.
Read more
You can read more about how Aquatera has achieved this success in The Aquatera Way White Paper, recently published by Leading Edge Group: https://www.leadingedgegroup.com/our-sectors/infrastructure-resources/.
For more information on Lean programming – you can visit: https://www.leadingedgegroup.com/