«

Back to Blog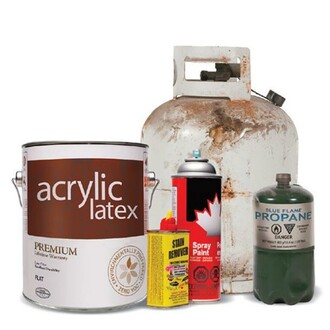 Not so long ago, someone decided to toss their old batteries in with their regular trash. Seems quite harmless, doesn't it? After all, the dangerous elements are encapsulated, right? Wrong…
After this bag of trash arrived at the landfill it was run over by a compactor causing it to crack open, react with the oxygen and burst into flames. Luckily, no one was hurt, but this is something we must be very cautious of at all times.
Even if this scenario doesn't play out (fingers crossed), batteries and electronics contain heavy metals such as copper, lead, cadmium, mercury and lithium. These metals can permeate the ground soil and enter our water supply.
You may not know it but these products, as well as many others, are considered household hazardous waste. Items that contain corrosive, toxic, flammable or reactive ingredients require special care and handling to ensure proper disposal. Improper disposal can contaminate our water, land and air, and be hazardous to human health and wildlife.
At Aquatera, we are always striving to protect human and environmental health and safety and provide outstanding service to our customers and communities. As part of these efforts, the Aquatera Eco Centre is aligning with Alberta Environment and Parks' guidelines around household hazardous waste.
As of June 1, 2021, the Aquatera Eco Centre accepts household hazardous waste in four categories: Aerosol, Corrosive, Flammable, and Toxic.
To ensure safe and proper disposal, all residential customers must ensure that hazardous waste is properly sealed in its original container with intact labels. If hazardous waste is not in its original container, customers must ensure it is safely and securely sealed, properly labelled, and not mixed with other chemicals. Just remember the Golden Rules: "Label it Right, Seal it Tight, Don't Mix and Keep Upright."
To support customers, the Eco Centre is improving its site operations to ensure that customers can easily understand and identify proper disposal instructions for household hazardous waste. Disposal zones are clearly identified with signage to indicate how and where to properly dispose of waste.
Aquatera would like to remind everyone that the Eco Centre is for residential customers only. Commercial and industrial customers are required to dispose of household hazardous waste at facilities that can accommodate larger volumes.
Learn more about Aquatera's Eco Centre and Household Hazardous Waste.