«

Back to Blog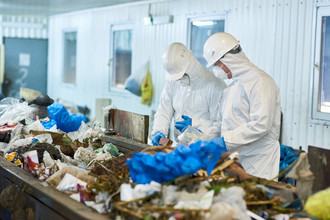 China Closes Doors on Recycling 
What happens when one of the world's largest markets for recyclables closes its doors to mixed recycling?
This is no longer a hypothetical question as it is exactly what we are seeing play out at the international level with China no longer accepting much of what you place at your curb to recycle each week.
This is no small change either, as until January 2018 China imported two-thirds of North America's single stream recycling market products; they are now accepting only the cleanest and purest recyclable materials.
Municipal to Global Impacts 
Since the beginning of the year Aquatera has been directly impacted by this change, as we have seen our acceptable contamination allowances in our blue bag program drop from 15% to 0.5% as a direct result of this change.
And we know there is more change on the horizon.
The vast majority of Canadian municipalities have some kind of recycling program in place. In Grande Prairie, we collect about 2,000 metric tonnes from our customers at the curb each year. You are charged a fixed monthly rate for our solid waste services and have access to our Eco Centre to drop off a large number of other recyclable materials at no additional cost.
This significant decrease in the demand for recycled products is leaving cities across North America asking the same questions: what are we going to do with it now?
Some municipalities, like Halifax are resorting to burning their recyclable plastics or landfilling what was once sold to processing facilities and shipped overseas. The City of Calgary has amassed thousands of tonnes of materials in warehouses searching for a market to sell it to.
Storing materials is adding pressure to a system that is concurrently seeing the prices they receive for paper and plastic recyclables drop significantly due to the scarce demand for these products in the market.
So, where do we go from here?
It looks like we are headed down a path that ends for us between a rock and a hard place. Increase prices for us – and ultimately our customers - if we are able to sell it, (the rock) and landfilling unsellable recyclables (the hard place).
Aquatera will be looking to gather input from our customers as this issue develops and we begin to look at strategies for the future.
Stay tuned.  
Read more on this issue: