«

Back to Blog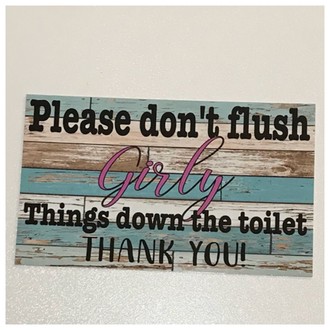 Things are about to get personal, hygienically speaking…
I think its time we had "the talk".
Not that talk, but the one about officially entering womanhood. As I write this, Neil Diamond's "Girl, You'll Be a Woman Soon" pops into my head. Neil Diamond was my dad's favourite musician and, oddly enough, my dad was the one who warned me against flushing hygiene products.
At the time I didn't understand why this was an issue, and you can bet he wasn't going to subject himself to having this conversation with his daughter. So, as I entered womanhood, I was left completely confused.
Now, it's not my job to have this discussion with you but I do feel an obligation to let you know your responsibilities when it comes to disposing of hygiene products. With all the misinformation out there, starting out on this path can be quite puzzling. Well, I am here to help! Here is what you need to know:
Soaking It All In
Hygiene products such as tampons, sanitary pads, diapers and cotton balls were designed to absorb 10 times their size in fluid. When flushed, they quickly expand and can easily clog the sewer system.
The Break-Down
Unfortunately, these products don't break down… Unlike toilet paper, the materials used to make these products don't dissolve so they will just linger in the pipe while everything else that gets flushed builds up around it. The next thing you know, you have water flowing over the bowl and onto your bathroom floor.
But the Box Says…
Flushable? I'm sure it does – so do disposable wipes but we all know how that turns out. Septic systems were not designed to withstand the long-lasting effects hygiene products can have when they are flushed.
The Nightmare Next Door
Even if your hygiene products make it out of your plumbing system, you're not in the clear just yet. You may experience a blockage further down the pipe which could make its way to your neighbours' yard. Trust me, you do not want to end up with a story-line on Investigation Discovery's Fear Thy Neighbour…
Polluting Our Environment
Because hygiene products do not dissolve, every time you flush them you run the risk of polluting our water which harms our precious aquatic life and wildlife.
You Can Dish It Out, But Can You Pay It?
Every year, Canadians dish out approximately $250M to clean contaminated water supplies and remove everyday items, including personal hygiene products, that are being flushed. This cost not only affects the company that is treating the water, but the customers as well.
So, What Should You Do?
The safest way to dispose of personal hygiene items is to wrap them up and toss them in trash. This will keep our water supply and environment safe, our aquatic life and wildlife safe, our septic system free of damage and costly repairs, and money in your pockets.
If you have any other questions, I recommend asking your mom.