«

Back to Blog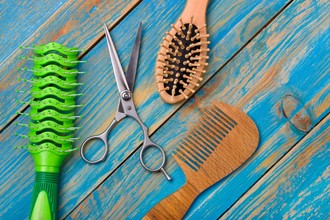 Hair salons in North America accumulate over 400,000 lbs of waste daily. That's a lot of hair clippings, metal foils, hair chemicals and packaging.
Tara Smith, Owner and Stylist at Haircraft Eufora Concept Boutique has found a solution with Green Circle Salons, transforming her salon into an almost completely waste free business.
Humans make a lot of waste. Some of us are better than others, but there's really no getting around it. Look up right now and take a quick scan of your surroundings. Chances are you can identify some unnecessary waste in just a few moments, right?
But how often do we really do this? We're used to it. To the stuff. To plastic forks in the food court and throw away packaging.
Those are the obvious ones. But what about the places you probably never think of as being wasteful? Like…your hair salon?
"I've always hated how much "garbage" it creates," Smith says.

"Before the program, a typical 2-4 person salon is generating approximately one black garbage bag everyday in trash. Previously, colour waste was typically put in the trash or rinsed down the sink. Now, with partnering with Green Circle approximately 95% of waste is disposed of responsibly. Bins are provided they the program to make separating easy."
Since 2009, the core mission of Green Circle Salons has been to offer an industry-wide environmental solution for the waste that is generated from beauty services.
In 2013, 198,166 lbs of waste was diverted from our local landfill sites and 8,295 litres of liquid chemical waste was kept out of local water streams.[1]
Haircraft, along with thousands of other salons across North America, are now separating metals, paper, plastics, colour waste and even their coffee pods and k-cups.
But perhaps most intriguing is what they're doing with all that hair. Green Circle out sources the hair to a prison program where inmates stuff the hair in buoy's, which are not only used to collect oil spills but are also able to be cleaned and reused over and over.
During the Fort McMurray fires the hair was used to make over 100 beds for abandoned pets.
"As you can see, this program significantly reduces the amount of waste our salon puts into the landfills and water supply. We are very proud of this," Smith adds. "In addition to the recycling program, we also carry Eufora. Our product and colour line, Eufora is an aloe based line. Containing no water, this line is pure and concentrated and recently voted stylist choice favourite eco friendly line."
Haircraft stands committed everyday to quality without compromising the integrity of the environment.
[1] http://gallery.mailchimp.com/aab889f9cdbabb7a66c7fc4d2/files/4d51402c-1aa7-493d-9bf5-4c3d3aca7a57.pdf