«

Back to News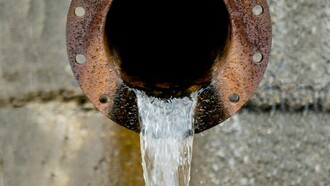 GRANDE PRAIRIE – In 2022, Aquatera was approached by Pipestone Energy Corp. to supply treated wastewater effluent from the company's Final Effluent Lagoon as an alternative water source for fracturing fluid. The use of treated wastewater effluent promotes efficient water reuse, opposed to using fresh water from alternative water sources like the Wapiti River.
Pipestone Energy Corp. is an oil and gas exploration and production company with its head office located in Calgary, Alberta. The company is focussed on developing its condensate rich Montney assets in the Wembley and Grande Prairie area of Alberta. While building long term value for its shareholders, Pipestone Energy Corp. is committed to the communities within its operating areas and they value their current partnerships and those they will establish into the future.
"We are committed to managing the impact of our water use by pursuing techniques that help us reduce, re-use and recycle," said Dustin Hoffman, Chief Operating Officer of Pipestone Energy Corp. "Our goal is to use less fresh water and to recycle flowback water as much as commercially possible and the use of Aquatera's wastewater effluent is a natural fit for the company."
Aquatera prides itself on being an innovative company and is always seeking new opportunities to foster growth in the communities it serves. As a result, Aquatera conducted this as a pilot project to determine its success and viability for future opportunities. Aquatera supplied treated wastewater effluent from its Grande Prairie final wastewater effluent lagoon for one of Pipestones hydraulic fracturing operations. The wastewater was safely transferred to site and utilized without incident or environmental impact.
Vaughn Bend, Chief Executive Officer for Aquatera Utilities says the health and safety of the public and environment is Aquatera's top priority. "To protect our customers, communities and environment, Aquatera implemented enhanced safety measures to mitigate risks associated with this project. This included obtaining all required regulatory approvals from the Alberta Energy Regulator (AER) and Alberta Environment and Parks (AEP)."
"Aquatera and Pipestone Energy share a common goal and strive to conserve fresh water. We are excited about future collaborations in both the Grande Prairie and Wembley areas," said Hoffman.
-30-
Aquatera Utilities is a municipally owned corporation headquartered in the Grande Prairie region and is a leading provider of water, wastewater, and solid waste services throughout Alberta. We play an integral role in growing healthy communities while supporting economic development in our service territories.
Media Contact:
Vaughn Bend, Chief Executive Officer
Aquatera Utilities Inc.
P: 780.538.0423

Sarah Martin, Public Relations and Communications Specialist
Aquatera Utilities Inc.
P: 780.830.5012