«

Back to News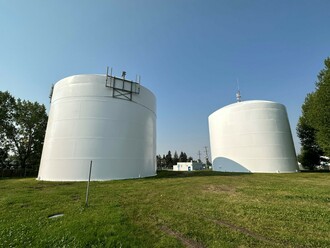 GRANDE PRAIRIE – Historical landmarks receive a new lease on life. The City of Grande Prairie built its first water tower in 1958 with the second tower being added in 1966 to support a vibrant region and growing city.
Since 2003, the water towers have been owned, operated, and maintained by Aquatera Utilities Inc. Water towers are a critical part of Aquatera's infrastructure. They are constructed at a height sufficient to pressurize the distribution system to maintain a consistent potable water supply for the community, and for the provision of emergency storage for fire protection.
In 2018, Aquatera contracted ISL Engineering and RAE Engineering and Inspection Ltd. to conduct a comprehensive assessment of the north and south water towers, to identify any structural concerns. Their findings identified that corrosion on the outer shells was occurring and recommended the shells be recoated to maintain their structural integrity. 
In 2023, Aquatera contracted Iron Coatings Group to conduct the work. Using an advanced fluoropolymer topcoat, HydroFlon, the exterior finish provides protection from the damaging elements and extends the towers' lifespan an additional 25 years.
In addition, Aquatera conducted site grading and updated landscaping to ensure proper drainage conditions, avoid erosion and generally make the site more attractive to the community. 
Aquatera's Chief Executive Officer, Vaughn Bend, says that the water towers are not only a critical piece of infrastructure, but a significant landmark in the Grande Prairie community.
"Our water towers are a critical part of the Aquatera's water supply infrastructure. Every second of everyday someone is using water. The refurbishment of these water towers ensures a safe reliable water supply for our growing community well into the future."
"Water towers are an important piece of our community, ensuring access to clean, safe water directly to residents," said City of Grande Prairie Mayor Jackie Clayton. "We thank Aquatera for their commitment to our City's future by refurbishing the water towers and continuing to ensure a dependable and safe water supply."
This project is another example of Aquatera's commitment to progress, resilience and ensuring a reliable water supply for generations to come.
-30-
Aquatera Utilities is a municipally owned corporation headquartered in the Grande Prairie region and is a leading provider of water, wastewater, and solid waste services throughout Alberta. We play an integral role in growing healthy communities while supporting economic development in our service territories.
Media Contact:
Sarah Martin, Public Relations and Communications Specialist
Aquatera Utilities Inc.
P: 780.830.5012 | C: 867.445.6487

Vaughn Bend, Chief Executive Officer
Aquatera Utilities Inc.
P: 780.538.0423 | C: 403.860.1069