«

Back to News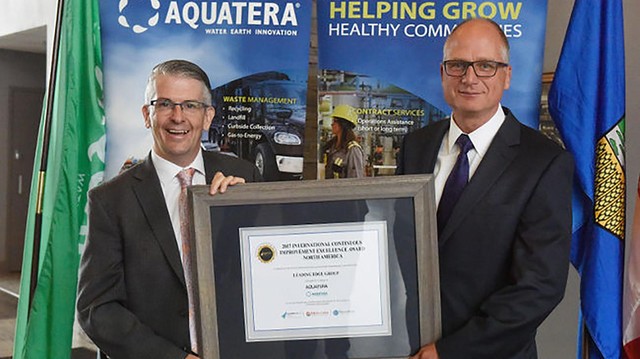 MEDIA RELEASE
Aquatera wins the International Continuous Improvement Excellence Award for North America from Leading Edge Group
September 18, 2017
GRANDE PRAIRIE - Aquatera is thrilled to announce that it has been selected as the first North American winner of the International Continuous Improvement Excellence award for 2017 from Leading Change Group.
Aquatera will be receiving the award from John Whelton, VP of North American Operations, Leading Edge Group on Tuesday, September 19, 2017.
Leading Edge Group established this award to recognize excellence in adopting sustainable continuous improvement programs. Aquatera was selected as winner thanks to its progress and commitment to becoming a Lean organization over the last two years.
Removing 'waste' from a customer's perspective' is the main focus of Lean initiatives. This, along with intentional cost containment efforts by everyone at Aquatera, contributed to improving financial performance from the prior year. Between 2015 and 2016, Aquatera has been able to achieve a realized savings of $980,000 through Lean initiatives.
Major initiatives in 2016 focused on safety, asset management and supply chain management. Processes were formalized encouraging "Just Do Its" for staff to make changes that improve their day-to-day jobs directly. This year, a key focus of Aquatera's is to improve development processes. A case study will be published by Leading Edge Group highlighting the excellent work completed, results to date and key factors for Aquatera's success.
Quotes
"Quality and Respect are foundational pillars of Lean.  They are also two Core Values at Aquatera. Our Lean initiatives have helped us practice respect by being accountable for all that we do and allowing each team member to affect their own jobs by eliminating steps that don't add value to our customers. I'm extremely proud of each Aquatera employee for their work towards winning this International Continuous Improvement Excellence Award for North America. This award showcases our commitment to our customers and is an important milestone in our journey of continuous improvement!
Bernd Manz, CEO
Aquatera Utilities Inc.
"I'd like to formally congratulate the Aquatera Management Team and staff for their commitment to becoming a Lean company. It's clear that their focus, hard work and determination has paid off and been of significant value for the communities we serve. We strive to provide the best possible service at all times – and I believe this award is proof that we're always evaluating the work we do and focusing on making it better."
Andy Beal, Chair, Board of Directors
Aquatera Utilities Inc.
"This award exemplifies the culture at Aquatera. Our core values of Quality, Respect, Safety and Teamwork are all captured in this award. It took commitment from everyone at Aquatera to come so far in our Lean journey so quickly. We started our journey known as "The Aquatera Way" in 2016 and to win this award today speaks volumes about the commitment from everyone. I am so proud to work for this company and with such a great group of people."
Meredith Pilkington, Chief Human Resources Officer
Aquatera Utilities Inc.
"On behalf of Leading Edge Group, I am delighted to award the International Continuous Improvement Excellence Award for North America to Aquatera Utilities Inc. As an international organization, Leading Edge Group specializes in business transformation programs globally for over 20 years. We established this Award in 2017 to formally recognize the efforts and progress of those organizations striving to achieve and sustain excellence across all operations and develop an ongoing culture of continuous improvement. With the commitment shown by the Board and senior management team and the motivation, capability and desire evident across all levels of the organization, I have no doubt but that Aquatera will go from strength to strength. Congratulations to all on a fantastic achievement."
John Whelton, VP North America Operations
Leading Edge Group
About Leading Edge Group
Leading Edge Group is a global leader in continuous improvement consultancy and corporate training and education. Established in Ireland in 1995, Leading Edge Group has continued to grow and expand for the past two decades and now has international operations in Canada, Australia, and the Middle East. 
The company has more than 20 years of international experience and has worked with the best of the best across a broad range of sectors. Leading Edge Group has honed its skills and expertise to provide client organizations with the optimum opportunity to develop, grow and realize its true potential.
For more information: https://www.leadingedgegroup.com/
- 30 -
Aquatera Utilities Inc. is the Grande Prairie region's provider of water, wastewater and solid waste services. Its core purposes is helping grow healthy communities and aims to have the best people providing the best service for the best value. For more information: www.aquatera.ca

Contact
Chelsea Lewis
Communications and Change Manager
Aquatera Utilities Inc.
P: 587.297.0692