«

Back to News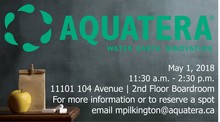 Are you interested in learning about the Lean philosophy and how it can help your organization improve productivity and create more success in the workplace? As a company who has adopted the Lean philosophy and practices, Aquatera has dramatically improved productivity and corporate culture.
Our success has resulted in Aquatera being awarded the first International Continuous Improvement Excellence Award through our success with Lean, and we want to share it with you!
Aquatera will be holding a Community of Practice Lunch and Learn on May 1 from 11:30 a.m. to 2:30 p.m. Click here for more information.
Space is limited so we encourage you to register by emailing mpilkington@aquatera.ca.