«

Back to News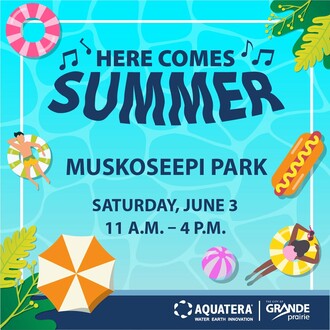 The City of Grande Prairie has partnered with Aquatera Utilities Inc. to introduce a new event called Here Comes Summer to kick-off the opening of multiple City-run outdoor amenities this year.
Here Comes Summer takes place at Muskoseepi Park on June 3, 2023 from 11 a.m. to 4 p.m. and includes the following fun and free activities:
Aquatera Outdoor Pool season opening with free public swimming from 11 a.m. to 10 p.m.
Community barbecue.
Muskoseepi Park spray park season opening.
Outdoor games.
Roller skating demonstrations from S3 at the tennis courts.
S3 Skate Day+ at the skate park.
Roaming entertainment.
Scavenger hunt.
"We're excited to celebrate the beginning of summer with the community and our event partner Aquatera," said Mayor Jackie Clayton. "Grande Prairie has so many great outdoor recreation amenities where residents can keep active, have fun and enjoy being outside. We look forward to opening up and welcoming everyone to our summer amenities for the season."
"Aquatera prides itself on growing healthy communities and supporting the communities we serve," says Vaughn Bend, Chief Executive Officer with Aquatera Utilities. "Here Comes Summer is a great way to bring our community together, celebrate and connect with residents, and give back to those who give us so much."
The Here Comes Summer event also marks the beginning of Recreation and Parks Month, taking place in June.
All event activities are on a first come, first-served basis, pre-registration is not required. See full event details at cityofgp.com/SummersComing.
Aquatera Outdoor Pool Information
The Aquatera Outdoor Pool is open for public swimming in June, Monday to Friday from 3 p.m. to 10 p.m. and Saturday and Sunday from 12 p.m. to 10 p.m. Private bookings are also available at the Aquatera Outdoor Pool for larger groups and parties. 
The City looks forward to providing another summer of outdoor fun and recreation at the Aquatera Outdoor Pool.
For more details about Aquatera Outdoor Pool admission prices, schedules, private booking details and more please visit cityofgp.com/outdoorpool.