«

Back to News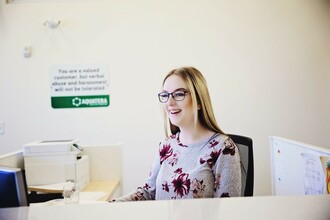 GRANDE PRAIRIE – Aquatera has officially reopened the Account Services department at its Head Office to utility account customers who would like to make in-person payments.
In addition to resuming regular business hours – 8:30 a.m. to 4:30 p.m., Monday to Friday – Aquatera will also be open from 10 a.m. to 2 p.m. on the following Saturdays: July 11, July 18, and July 25, to accommodate utility account payments only.
On March 16, Aquatera closed its Head Office to the public as a preventative safety measure but has continued to maintain all essential services.
"Throughout the COVID-19 pandemic, we have prioritized the health and wellbeing of our customers, communities and employees," says Vaughn Bend, Chief Executive Officer of Aquatera. "We continue to take a cautious and balanced approach to our reopening strategy and have controls in place that allow us to increase customer interactions while maintaining everyone's health and safety."
Aquatera has implemented a number of precautionary measures to ensure a safe and successful reopening:
Plexiglass barriers have been installed to reduce employee-to-customer interactions;
Employees will be provided with disposable gloves and masks to wear when handling customer paperwork and cash payments and dispose of gloves immediately after use with each customer;
Employees will be required to clean and disinfect surfaces workstations at the beginning and end of shifts, and between customers;
A hand sanitizer station is provided for all customers to use upon entering the building;
Customers will be asked to wear a mask, if possible.
A maximum of three customers is permitted in the premises at one time, with a limit of one person per household;
Customers who are symptomatic, have travelled outside of Canada or have been in close contact with a confirmed or probable case of COVID-19, are not permitted to enter the premise;
Customers are asked to follow the physical distancing practices of two metres and abide by the guidelines Aquatera has displayed on-site.
To support customers in making account payments, Account Services will be accepting debit and credit card payments, as well as cash payments, though they do encourage customers pay by debit or credit card, if possible, to reduce contact and exposure. 
Customers experiencing financial difficulties as a result of COVID-19 are asked to contact Aquatera and speak with an Account Services Representative to discuss their account.
"We would like to thank all of our customers for their support and commitment as we progress through the reopening of our Account Services department," says Bend. "Aquatera looks forward to welcoming back our valued customers and providing trusted quality, valued service and peace of mind.
As a provider of essential services in the Grande Prairie region, Aquatera is committed to closely monitoring the COVID-19 outbreak and providing further updates on the impacts this will have on its customers and communities. For more information and regular updates, please visit www.aquatera.ca/covid19.
-30-
Aquatera Utilities Inc. is the Grande Prairie region's provider of water, wastewater and solid waste services. Its core purpose is "Helping Grow Healthy Communities," and aims to have the best people providing the best service for the best value.
Media Contact
Sarah Martin, Public Relations and Communications Specialist
Aquatera Utilities Inc.
P: 780.830.5012
Vaughn Bend, Chief Executive Officer
Aquatera Utilities Inc.
P: 780.538.0423