«

Back to News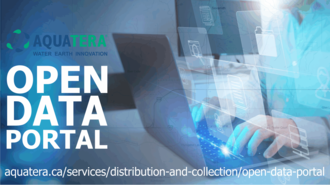 GRANDE PRAIRIE – Aquatera is excited to announce the launch of their open data portal, providing a single point of access for Aquatera's existing data resources.
The open data portal is a publicly accessible platform hosted by Aquatera that allows users to access and view Aquatera's assets and infrastructure through the use of maps, mapping tools and datasets. This tool puts more information into the hands of residential and commercial customers, while fostering innovation, education and economic development.
Vaughn Bend, Aquatera's Chief Executive Officer, says that the open data portal reflects Aquatera's commitment to the delivery of timely, consistent, and reliable information.
"Open data portals play an important role in promoting transparency, accountability, and innovation by providing public access to data that can be used to inform decision-making, drive economic growth, and improve customer service."
By investing in training and technology, Aquatera is equipped to provide excellent customer service by prioritizing customer needs, being responsive and attentive, communicating clearly and effectively, and striving to exceed customer expectations.
A key component to providing transparent and responsive customer service is through the Service Interruption feature. In the event of a service interruption or outage resulting from planned or unplanned maintenance activities or construction, customers will be able to access detailed information regarding the service outage including impacted areas, and updates on the progress of restoring services to the community.
To further support customers, the open data portal also has a Submit a Line Locate Request component where customers can access utility line locates prior to construction or excavation activities. Line locates are an important safety measure that helps protect workers, the public, and the environment, and ensures that essential services are not disrupted by accidental damage to underground utility lines.
In addition to the Service Interruption and Submit a Line Locate Request features, the open data portal also features an Asset Map Viewer, Wastewater Collection System, Water Distribution System, and Capital Projects.
For more information, and to access the open data portal, customers can visit https://www.aquatera.ca/services/distribution-and-collection/open-data-portal.
-30-
Aquatera Utilities is a municipally owned corporation headquartered in the Grande Prairie region and is a leading provider of water, wastewater, and solid waste services throughout Alberta. We play an integral role in growing healthy communities while supporting economic development in our service territories.
Media Contact:
Vaughn Bend, Chief Executive Officer
Aquatera Utilities Inc.
P: 780.538.0243

Sarah Martin, Public Relations and Communications Specialist
Aquatera Utilities Inc.
P: 780.830.5012
C: 867.445.6487