«

Back to News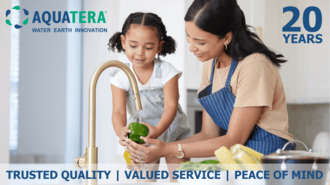 GRANDE PRAIRIE – Kicking off 2023, Aquatera announced today the unveiling of its refreshed visual identity, a reflection of its ongoing commitment to innovation, environmental stewardship and exceptional customer service. The brand refresh comes as Aquatera prepares to celebrate 20 years of success in the Grande Prairie region.

Aquatera's new brand represents the foundation on which Aquatera was formed. Returning to a refreshed version of the corporation's original logo, the new logo honours their roots and reinforces their position of being grounded in the community.

"Our new look is based on the best of Aquatera's past 20 years in the community, combined with the huge potential we see for Aquatera and our communities in the future," said Vaughn Bend, Aquatera's Chief Executive Officer. "Our core values, excellent customer service and focus on growing healthy communities, that have made us successful over the last 20 years, remain and will lead us successfully into the future."
Effective January 16, 2023, customers will start to see Aquatera's new logo throughout the community. This will include, but not be limited to, online and print advertisements, digital billboards, website and social media, customers bills, and Aquatera vehicles and equipment.

"We are very grateful for the community support we have received over the last 20 years," says Bend. "This is not just a celebration of Aquatera, but a celebration of our community and customers."

As they usher in a new era, Aquatera looks forward to serving its customers and providing trusted quality, valued service and peace of mind.
-30-
Aquatera Utilities is a municipally owned corporation headquartered in the Grande Prairie region and is a leading provider of water, wastewater, and solid waste services throughout Alberta. We play an integral role in growing healthy communities while supporting economic development in our service territories.
Media Contact:
Vaughn Bend, Chief Executive Officer
Aquatera Utilities Inc.
P: 780.538.0423

Sarah Martin, Public Relations and Communications Specialist
Aquatera Utilities Inc.
P: 780.830.5012