«

Back to News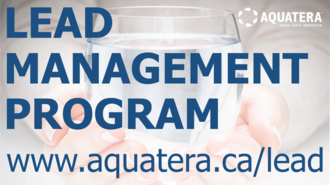 GRANDE PRAIRIE – Aquatera is committed to the health and well-being of their customers and communities they serve, and protecting the environment from harmful contaminants, including lead.
In March 2019, Health Canada published a new lead limit for the Guidelines for Canadian Drinking Water Quality, introducing two fundamental changes from how lead has been managed in drinking water since 1992:
The Maximum Acceptable Concentration (MAC) was lowered from 0.010 mg/L to 0.005 mg/L
Testing is now conducted at the customer's tap instead of the distribution system.
Aquatera is taking a precautionary approach, working in collaboration with Alberta Environment and Parks (AEP) and Health Canada to develop a Lead Management Program that ensures compliance with the new proposed guidelines and mitigates exposure to lead associated with plumbing components in the Grande Prairie region.
"At Aquatera, there are no measurable levels of lead in water when it leaves our Water Treatment Plant, and we have no knowledge of lead materials in Aquatera-owned infrastructure," said Vaughn Bend, Aquatera's Chief Executive Officer.
"The National Plumbing Code allowed lead as a material in pipes until 1975, and lead in solder until 1986, meaning some residences may have a lead service line connecting to the water main. Some brass faucets, fixtures and fittings can also contain lead that can leach into tap water," Bend added.
To address and mitigate these risks, Aquatera will be conducting residential water sampling to identify Lead Service Lines (LSL) in its service region, the concentration of lead exposure at a specific residence, and contributors to lead exposure such as lead solder and brass fittings.
The Lead Management Program is a one-time sampling program that will begin in the summer of 2020. This assessment will allow Aquatera to implement an appropriate Lead Management Program that will mitigate and protect its communities from lead exposure.
Sampling will target randomly selected addresses in each service area, though areas that are known or likely to have a Lead Service Line will be the highest priority for sampling. Once identified, selected customers will be contacted by Aquatera directly to participate in the Lead Management Program.
Customers are required to provide informed consent for the collection of personal information in order for Aquatera to proceed with water sampling. Results and addresses will be disclosed to Alberta Environment and Parks as part of required reporting under this program.
For more information, please visit www.aquatera.ca/lead.
-30-
Aquatera Utilities Inc. is the Grande Prairie region's provider of water, wastewater and solid waste services. Its core purpose is helping grow healthy communities and aims to have the best people providing the best service for the best value.
Media Contact
Sarah Martin, Public Relations and Communications Specialist
Aquatera Utilities Inc.
P: 780.830.5012
C: 867.445.6487

Vaughn Bend, Chief Executive Officer
Aquatera Utilities Inc.
P: 780.538.0423