«

Back to News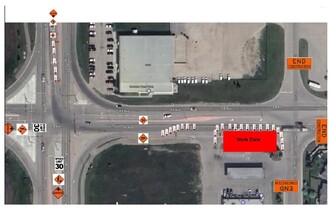 GRANDE PRAIRIE – As part of the Westpointe Sanitary Diversion Project, Aquatera will be conducting construction activities along 84 Avenue and Westpointe Drive in Grande Prairie beginning May 8.
As a result, the eastbound right and middle lane will be closed to through-traffic, as well as the eastbound turning lane. The speed limit will be reduced to 30 kilometres an hour. Construction is expected to be complete by May 22.
Those travelling along 84 Avenue and Westpointe Drive are asked to obey all signage and be mindful of workers in the area.
-30-
Aquatera Utilities is a municipally owned corporation headquartered in the Grande Prairie region and is a leading provider of water, wastewater, and solid waste services throughout Alberta. We play an integral role in growing healthy communities while supporting economic development in our service territories.
Media Contact:
Sarah Martin, Public Relations and Communications Specialist
Aquatera Utilities Inc.
P: 780.830.5012
C: 867.445.6487

Vaughn Bend, Chief Executive Officer
Aquatera Utilities Inc.
P: 780.538.0243