«

Back to News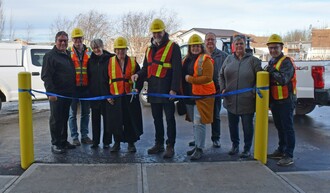 CLAIRMONT, AB – Aquatera Utilities Inc. and the County of Grande Prairie officially unveiled the Clairmont Regional Lift Station during a ribbon cutting ceremony at the Lift Station site in the Hamlet of Clairmont on November 25. The ceremony celebrated an important milestone, more than 15 years in the making.
"Reliable and sustainable water and wastewater infrastructure contributes to stronger and healthier communities in Alberta and across the country," said the Honourable Randy Boissonnault, Minister of Tourism and Associate Minister of Finance, on behalf of the Honourable Dominic LeBlanc, Minister of Intergovernmental Affairs, Infrastructure and Communities. "Today's completion of the Clairmont Regional Lift Station project is a big deal for these communities in northern Alberta, and has been in the making for 15 years! Congratulations to everyone who helped make this possible. We will continue collaborating with our local and provincial partners to help build a greener, more vibrant Canada."
"Investing in essential infrastructure, like the Clairmont Regional Lift Station, is vital to creating safe sustainable communities and contributing to economic growth," said Vaughn Bend, Chief Executive Officer with Aquatera Utilities. "We look forward to supporting the growth of the Hamlet of Clairmont and working together to ensure community development and sustainability for the region."
In 2007, Aquatera commissioned ISL Engineering and Land Services to complete the Clairmont Regional Lift Station and Forcemain Preliminary Design Report to determine necessary wastewater servicing improvements required to support continued growth in the area. The study found that wastewater flows to the existing Clairmont Main and Countryview Lift Stations were approaching their respective capacities.
While provisional improvements were made in 2010 to extend the capacity of the existing infrastructure, this study laid the foundation for the assessment and development of the Clairmont Regional Lift Station Preliminary Design Report, outlining the detailed design and project scope. The report was completed in 2016 and construction followed in 2020.
The Clairmont Regional Lift Station replaced three existing lift stations within the Hamlet of Clairmont on October 21 following completion of work at the Countryview Lift Station.  The Clairmont Main and Industrial Park Lift Stations were removed from service earlier in October and September respectively.
"Waste and wastewater infrastructure is a vital piece to creating healthy, vibrant, and liveable communities, that can continue to grow and develop well into the future," says County of Grande Prairie Reeve Bob Marshall. "The County of Grande Prairie was pleased to see provincial and federal grant funding in addition to municipal support, demonstrating all levels of government working together to support this key community-building project."
Aquatera invested $5.8M and the County invested $4.0M toward the cost of the $26.7M lift station. The remaining $16.8M was funded through provincial and federal grants; $9.2M from the Government of Canada's Investing in Canada Infrastructure Program (ICIP) and $7.6M from the provincial Alberta Municipal Water/Wastewater Partnership (AMWWP). The project was designed by ISL Engineering and Land Services and constructed by Alpha Construction Inc.
"Our government is committed to ensuring Alberta communities have the infrastructure they need to thrive and grow, including reliable access to clean drinking water and effective wastewater services. We are pleased to have supported the County of Grande Prairie in developing a modern facility that will meet the needs of residents and businesses and support economic growth in the region," said Devin Dreeshen, Minister of Transportation and Economic Corridors.
Chris Warkentin, MP for Grande Prairie Mackenzie, was pleased to see regional partners investing in an initiative contributing to the development and vitality of the community.
"I was proud to support this piece of essential infrastructure in Clairmont. The Clairmont Regional Lift Station will allow for growth, economic development, and a better quality of life for all residents. I look forward to continuing to support essential infrastructure in Clairmont and across the Peace Country," he stated.
-30-
Aquatera Utilities is a municipally owned corporation headquartered in the Grande Prairie region and is a leading provider of water, wastewater, and solid waste services throughout Alberta. We play an integral role in growing healthy communities while supporting economic development in our service territories.
Media Contacts: 
Sarah Martin, Public Relations and Communications Specialist
Aquatera Utilities Inc.
P: 780.830.5012 | C: 867.445.6487
Vaughn Bend, Chief Executive Officer
Aquatera Utilities Inc.
P: 780.538.0243