«

Back to News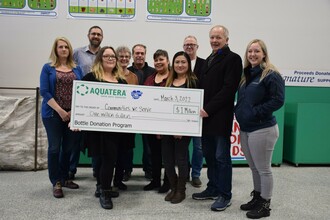 GRANDE PRAIRIE – Aquatera is celebrating another year of community support with monthly donations to non-profits exceeding $1,000,000 to date.
The Bottle Donation Program is a partnership between Aquatera and Recycle Plus, a community-based non-profit organization owned and operated by Signature Support Services.
Brenda Smith, Business Services Director with Recycle Plus says that the organization's vision began with the goal of providing supports for persons with disabilities but has since expanded to give back to the community in other ways.
"Our goal is to be a leader in our community through partnerships with youth, sports and other not-for-profit groups that enrich lives of those they serve."
Every month, a non-profit organization in Aquatera's service region is selected as the recipient of the Bottle Donation Program and receives a donation through this partnership between Aquatera and Recycle Plus. Each year, approximately $50,000 from recycling refunds goes back into the Grande Prairie community.
"At Aquatera, our Core Purpose is Growing Healthy Communities, and the Bottle Donation Program is one way we support the communities we serve." says Vaughn Bend, Chief Executive Officer of Aquatera. "It is encouraging to see the significance it has made in the lives of those in need in our community. It is an incredible milestone and I'm proud of the partnership that has been created between Aquatera and Recycle Plus."
Erika Gilroy, Donor Relations and Fundraising Coordinator with Big Brother Big Sister of Grande Prairie and Area says that the Bottle Donation Program is a wonderful opportunity for organizations in the community and she is thankful to Aquatera and Recycle Plus for their support.
"Big Brothers Big Sisters of Grande Prairie and Area is a local non-profit, that provides mentoring programs to at-risk children and youth in our community. Through the donation from the Bottle Donation program, we were able to continue these supports by matching eight new Littles to Bigs (through the Community Mentoring Program) in the last month as well as provide the opportunity for meaningful opportunities to build relationships with other kids in our programs."
The Bottle Donation Program supports organizations within Aquatera's service area, all supporting or providing programming to local, non-profit, youth-based organizations.
When selecting recipients for the Bottle Donation Program, Aquatera focusses on organizations that have the youth community in mind. To be eligible, recipients must meet the following criteria:
Be a non-profit organization within the Aquatera service area – City of Grande Prairie, County of Grande Prairie, Town of Sexsmith, Town of Wembley;
Provide programs and/or services that target youth under the age of 18;
Apply funds received directly to the enhancement and/or support of youth programs and services provided.
Organizations looking to apply for the Bottle Donation Program can fill out the application form at www.aquatera.ca/bottledonationprogram. The deadline to apply is March 15.
Those looking to support recipients through this program can take their bottles and cans to the Aquatera Eco Centre, the Aquatera Landfill or either of the Recycle Plus Bottle Depots.
-30-
Aquatera Utilities Inc. is the Grande Prairie region's provider of water, wastewater and solid waste services. Its core purpose is helping grow healthy communities and aims to have the best people providing the best service for the best value.

Media Contact:
Sarah Martin, Public Relations and Communications Specialist
Aquatera Utilities Inc.
P: 780.830.5012 | C: 867.445.6487

Vaughn Bend
Chief Executive Officer
Aquatera Utilities Inc.
P: 780.538.0423