«

Back to News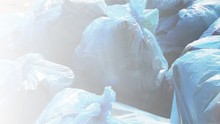 MEDIA RELEASE
Global Markets Clamping Down on Contaminated Recycling
January 24, 2018
GRANDE PRAIRIE – Changes in global markets and an increase in control guidelines from those who purchase recyclable materials may impact curbside collection of blue bags in Grande Prairie.
Items that have grease or food particles will no longer be accepted for curbside collection or at the Eco Centre as the margin for contamination has been drastically reduced from previous standards.
"Any materials contaminated with food waste or grease cannot be recycled and should be disposed of in the garbage," says Tammy Savidan, Recycling Coordinator at Prairie Disposal Ltd.
Some of these items include pizza boxes, donut boxes or containers where food particles or grease can soak into containers.  These items would be considered contaminated and not fit for recycling.
"We need to be very strict in enforcing these rules as they are coming directly from our buyers.  However, if residents remove the contamination we will go back and collect the bag," Savidan adds.
To help, please ensure that all waste is clean and dry before putting it out for curbside collection. Items accepted in blue bags include paper, hard plastics labelled #1-7, clean tin food cans such as soup cans, tissue boxes etc.
All contaminated waste or items not suitable for recycling can be placed in garbage carts or brought to the Aquatera landfill for disposal. For full list of items accepted for curbside collection in blue bags, visit www.aquatera.ca/servicesw/curbside-collection
- 30 -
Aquatera Utilities Inc. is the Grande Prairie region's provider of water, wastewater and solid waste services. Its core purposes is helping grow healthy communities and aims to have the best people providing the best service for the best value. For more information: www.aquatera.ca

Contact
Chelsea Lewis
Communications and Change Manager
Aquatera Utilities Inc.
P: 587.297.0692